Hiya, and welcome to another week of blogs! So today I couldn't really decide between two songs so I'm going to do them both, in a special Part 1 and Part 2 feature (I know really going out there!). So Part 1 is the Maggie Rogers single, who if you're a regular reader you'll know I'm in love with, which was released on the 21st of September. To listen to Split Stones, click below…
Maggie Rogers is the first artist to be featured twice on my blog and if you to find out more or listen to her brilliant debut Alaska you can view my previous New Music Friday post.
So I know I've already done a post explaining a bit about Maggie Rogers' rise to fame but if you can't really be bothered to read that let me paraphrase it for you… Rogers comes from New York and recorded her first album in a broom cupboard! All through high school she focused on writing and songwriting instead of the playing side of it, but her big break came in 2016 when Pharrell Williams listened to her track Alaska. Maggie Rogers wrote this track in 15 minutes especially for the masterclass, only to be shocked when a video of Pharrell's reaction went viral (by the way it was good!).
When I saw she had released a new track I can't even begin to explain the excitement and anticipation I felt before pressing play, and the first listen was not a disappointment! Maggie Rogers has shared the story behind this track, she says it's parting gift she wrote during her time at college. She shared the story about her last year and the inspiration for the single in a letter posted online.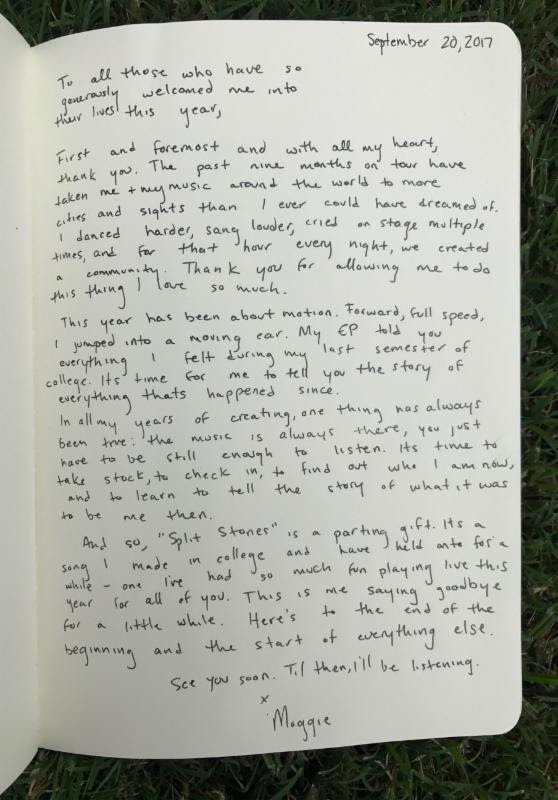 Maggie Roger says that she's "saying goodbye for a little while", which I suppose means she's raking a break to refocus after college, but I'll miss her and look forward to her return.
Let me know your thoughts on the new single, do you like it or not? Post your thoughts in the comments section below.
Guitar Girl signing off xx